The following resources are not sponsored by the Sahuarita Unified School District. They are provided as a community service to assist those in need.
Please use the links below to navigate to the section of the page applicable to the assistance needed.
---
CDC Order to Halt Evictions
The Centers for Disease Control and Prevention (CDC), located within the Department of Health and Human Services (HHS) announced the issuance of an Order under Section 361 of the Public Health Service Act to temporarily halt residential evictions to prevent the further spread of COVID-19. This Order is effective September 4, 2020 through December 31, 2020.
Please note that this order does NOT FORGIVE RENT and LATE FEES. There are several things that need to be met to qualify a tenant have an eviction temporarily suspended. More details can be found on the form that must be signed and submitted to landlords. See/download the form at: https://www.cdc.gov/coronavirus/2019-ncov/downloads/declaration-form.pdf
---
HOUSING/RENT ASSISTANCE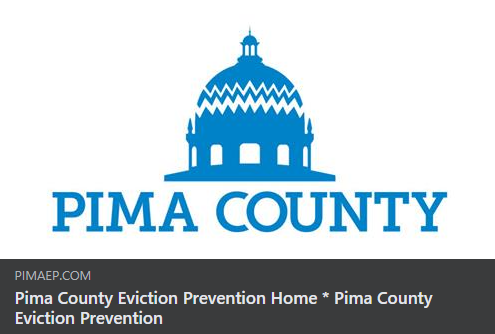 Pima County CARES Act funding is still available for up to 400 more Pima County households negatively affected by COVID-19 and currently behind on their rent. Community Investment Corporation (CIC), a Tucson-based nonprofit, is administering $3.625 million of eviction prevention money provided by Pima County. Funding for the program is set to expire on Nov. 30. Both tenant and landlord/property owner must complete an application and submit the required documentation. The program allows landlords, property owners, or tenants to initiate the application process online at the link below or by calling (831) 292-4308. The link also includes a list of program requirements.https://www.pimaep.com/
Interfaith Community Services – Emergency Financial Assistance
ICS provides financial assistance and short-term case management for individuals or families in emergency situations. The crisis may result from loss of job, illness or injury, or occur during the waiting period for other forms of public assistance. It is open to all Pima County residents.
Website: http://icstucson.org/emergency-financial-assistance-intake-form/
Community Action Agency
Pima County Community Service Department
2798 E. Ajo Way
Tucson, AZ 85713
520-724-2667
The Community Action Agency combats poverty and provides a safety net of basic services for low-income individuals and families in Pima County. CAA connects assistance with case management and other resources to promote self-sufficiency and economic independence. Services include: Emergency Assistance, Food and Nutrition, Medical Prescriptions and Supplies
Rental/Mortgage Assistance, Special Needs, Support Services, Utility Assistance.
CAA COVID-19 Response
The Pima County Community Action Agency has a new hotline to serve those seeking aid from the COVID-19 Rental Eviction Assistance Program that is funded through the Arizona Department of Housing.
Eligibility information and the application is available at https://housing.az.gov/general-public/eviction-prevention-assistance
Individuals are urged to complete the online application, but those without internet access can call the state's 2-1-1 hotline for assistance.
The new Pima County CAA Hotline is 520-724-2505.
Press 8 for COVID-19
Pick a language, press 1 or 2
Press 5 for Eviction Prevention
Staffers will answer questions regarding the status of an application, provide forms that are required for processing, offer direction and assistance to submit pending information, and direct applicants to other resources.
For more information about rental assistance and eviction protection, including forms and necessary document checklists for tenants, go to: What Tenants Need to Know During COVID-19 (https://webcms.pima.gov/cms/One.aspx?portalId=169&pageId=604639)
PPEP Human Services Department
This organization helps people on low income who are in need and provides emergency financial assistance for rent and utilities, and referrals for other needed services.
Toll Free (800) 376-3553
Rental Assistance: (520) 741-4397
Utility Assistance: (520) 770-2506
Website: www.ppep.org/
Catholic Community Services of Southern Arizona
This agency works to serve clients with immediate needs of food, diapers, rental assistance, and more.
Catholic Community Services of Southern Arizona, Inc.
140 W. Speedway, Suite 230
Tucson, AZ 85705
Phone-Voice/TTY: 520-623-0344
Toll Free: 1-800-234-0344
Fax: 520-770-8514
https://www.ccs-soaz.org
St. Vincent de Paul
The Society of St. Vincent de Paul renders assistance to those in need in 149 counties, and has more than 900,000 members worldwide! The Diocese of Tucson has 37 Conferences active throughout Southern Arizona, and 867 members.
Help provide rent and utility assistance
Help with there is food to eat and clothing to wear
Provide furniture, mattresses, appliances – a refrigerator to keep food fresh, a stove to cook a meal
Evaluate and meet the diverse needs of a diverse population
520-625-4536, press 9 and leave a message (local)
More info at: https://svdptucson.org/
Primavera Foundation
RENT ASSISTANCE is a program that can help you stay housed by assisting you with rent at a time of hardship. Call (520) 395-6420 only on the first business day of the month to leave a voicemail message with your name and phone number. You will receive a returned call within 48 hours, to be informed of the availability of limited funds and receive more information. Once the voice mailbox is full, you will not be able to leave a message until the next first business day of the month when you call again.
More info at: https://www.primavera.org/what-we-do/survival/emergency-rent-utility-assistance.html
Valley Assistance Services
Valley Assistance provides rental assistance to qualified households meeting service area, income, and documentation requirements; information, referrals, and short-term case management to strengthen the household
3950 S. Camino del Heroe Green Valley, AZ 85614
(520) 625-5966
More info at: https://valleyassistanceservices.org/rental-assistance/
---
UTILITIES
Low-Income Home Energy Assistance Program – LIHEAP
A resource to help with both cooling and heating bills. Benefits from LIHEAP can be used to pay for the current or a past month's natural gas or electric bill. There may even be grants to pay for late fees, deposits, and reconnect fees. To qualify for LIHEAP, the applicant must have an income that falls within the program guidelines. Priority for service assistance is determined at the local Community Action Agency level. Higher priority is granted if someone in your home is a senior citizen (60 years of age & older), a person with disabilities, or a young child under six years old.
Call the Tucson Urban League at (520) 791-9522 for information on LIHEAP or other utility expense assistance.
Southwest Gas
ASSISTANCE & FLEXIBLE PAYMENT OPTIONS: If you're facing unexpected financial hardship due to the COVID-19 pandemic, SWG can help you through it. Call 877-860-6020 and select option 3 to discuss flexible payment options and assistance programs available.
Tucson Electric Power
If you're having trouble paying your bill, TEP can help. Here are some programs and plans that can assist customers. Visit the link for more info: http://tep.com/payment-assistance
---
TECH ACCESS FOR LOW-INCOME INDIVIDUALS AND FAMILIES
NDIA List of Free and Low-Cost Broadband Internet Plans (https://www.digitalinclusion.org/free-low-cost-internet-plans)
COMCAST is providing high-speed internet for qualifying low-income applicants. Free for 60 days followed by $9.95 per month.
https://www.internetessentials.com/
COX is offering $19.99 for new Starter internet customers, with no annual contract or qualifications to help low-income individuals and those impacted by Coronavirus challenges, like seniors and college students.
https://www.cox.com/residential-shop/wls/order-cox-services.cox
COX also has a special offer for K-12 students who are on free and reduced lunch called Connect to Compete (C2C). Free for 60 days followed by $9.95 per month if families sign up before the end of September 2020.
<https://www.cox.com/residential/internet/connect2compete.html
Connect our Students
Better Together Coalition
Provides internet access assistance provides to qualifying households meeting service area and income requirements for students in the Sahuarita Unified School District and Continental Elementary School District. Please reach out to your child's school counselor. Connect Our Students will work with schools, internet providers, and families to establish or improve service.
Low-Cost Desktops And Laptops
Rise Equipment Recycling Center
1134 S. Park Ave.
Tucson, AZ 85719
(520) 623-7162
http://riseequipmentrecycling.org
Rise Electronics is offering a great deal to folks who receive state assistance. Those that are receiving a form of state assistance are eligible to purchase a computer/laptop at the price(s) below. The person will need proof of state assistance and an ID.
Desktop ($100) Complete (Flat-screen monitor, Tower, Keyboard, and mouse), with Windows 10 and Office
Laptop ($75-$150) with Windows 10 and Office
---
HELP FOR DISPLACED WORKERS
PimaWorks.gov by Pima County One-Stop Career Center
In March, Pima County launched PimaWorks.com as a one-stop resource in response to the economic disruption caused by the COVID-19 pandemic.
The county's One-Stop Career Center also established a dislocated worker hotline, staffed weekdays at 724-5735, to help with things like navigating the
application for Arizona unemployment benefits, identifying job leads, and accessing other county services.
One Stop also offers "Virtual Employability Skills" classes and works with local employers to maintain a listing of available jobs.
Website: http://pimaworks.com
Phone: 520-724-5735
Hospitality Workforce Connection
In April, the Arizona Office of Tourism and the Arizona Commerce Authority Office of Economic Opportunity launched the Hospitality Workforce Connection to help connect Arizona's displaced hospitality
workforce with industries that are urgently hiring during the
COVID-19 crisis. Learn more at tourism.az.gov/hiring-opportunities
Website: http://tourism.az.gov/hiring-opportunities
Pandemic Unemployment Assistance (PUA)
PUA provides up to 39 weeks of benefits to qualifying individuals who are otherwise able to work and available for work within the meaning of applicable state law, except that they are unemployed, partially unemployed, or unable or unavailable to work due to COVID-19 related reasons, as defined in the CARES Act. Benefit payments under PUA are retroactive, for weeks of unemployment, partial employment, or inability to work due to COVID-19 reasons starting on or after January 27, 2020. The CARES Act specifies that PUA benefits cannot be paid for weeks of unemployment ending after December 31, 2020.
Website: https://pua.azdes.gov/
---
Food Resources
SUSD Curbside Grab & Go Meals
Meals are available at no cost for youth 18 years and younger. Youth do not need to be a student in the Sahuarita Unified School District.
Please note winter holiday meals will be disbursed on Wednesdays December 16th-30th. More information at https://susd30.us/2020/12/02/winter-break-curbside-grab-go-meal-interest-form/
Wrightson Ridge

16325 S. Rancho Sahuarita Blvd.
10:30 AM – 12:30 PM
Monday – Friday

Walden Grove

15510 S. Sahuarita Park Road
11:00 AM – 1:00 PM
Monday – Friday

Sopori Elementary

5000 W. Arivaca Road
11:00 AM – 12:30 PM
Monday – Friday
PLEASE NOTE: All Community Food Bank Resource Center locations (Tucson, Marana, Green Valley, Amado, and Nogales) will be closed from December 25th through January 3rd.
28720 S Nogales Hwy. Amado, AZ 85645
(520) 398-2942
Thursdays 9:00 am – 3:00pm and 3rd Saturday of month 9:00am – 12:00pm
250 E Continental Rd. Green Valley, AZ 85614
(520) 625-5252
Tuesday 9:00am – 3:00pm; Wednesday 9:00 – 12:00pm; Friday 9:00am -12:00pm
17750 La Cañada Drive, Sahuarita, AZ 85629
(520) 625-1375
Thursdays 9:00 am – 1:00 pm; Saturdays 10:00 am – noon
Nutrition Assistance (formerly the Food Stamp Program) is Arizona's program for the Food and Nutrition Service (FNS) Supplemental Nutrition Assistance Program (SNAP). Nutrition Assistance supports families to prevent under-nutrition in Arizona.
More info at: https://des.az.gov/services/basic-needs/food/nutrition-assistance-formerly-food-stamp-program or call (855) 432-7587
Valley Assistance Services is working closely with our community partners to address food instability and the nutritional needs of seniors and families in our area.
This community partnership includes:
Local Food Banks
Meal Delivery Services
Grocery Delivery to the Homebound
SNAP(Food Stamps)/WIC Assistance
Please contact Valley Assistance Services at https://valleyassistanceservices.org/contact/ for referrals to partnering agencies.
Food insufficiency referral form https://valleyassistanceservices.org/food-resources/
---
Medical care (non-emergency and affordable)
Community Health Centers share a mission of making comprehensive primary care accessible to anyone regardless of insurance status.
Freeport: 520-407-5400
Same Day Acute Care: 520-407-5900
Dental: 520-407-5617
Pediatrics: 520-407-5800
Santa Cruz Valley Regional Hospital: 520-407-5910
Posada Health Provided by UCHC: 520-648-8900
Amado: 520-407-5510
Arivaca: 520-407-5500
Sahuarita Heights: 520-576-5770
Three Points: 520-407-5700
---
Social & Emotional Services
COPE Community Services
1660 W Commerce Point Place Green Valley, AZ 85614
520-625-3825
Community Health Associates
275 W Continental Rd. Ste 141 Green Valley, AZ 85614
520-628-4000
Joan Linder, MA, LPC
246 West Calle De Estribo Sahuarita, AZ 85626
520-661-2174
[email protected]
Norma A. N. Mayer, MA, LPC
290 W Calle De Las Tiendas Green Valley, AZ 85614
520-625-3713
[email protected]
Posada Life Community Services
(Senior adult focus)
780 S Park Centre Avenue Green Valley, AZ 85615
520-625-2273
Renewal Centers, Inc.
555 S La Canada Drive Green Valley, AZ 85614
(at the Risen Savior Lutheran Church)
(520) 791-9974
Serenity First Counseling
Sahuarita, AZ 85629
520-398-7272
Shefa Life Counseling
210 W Continental Rd # 215B Green Valley, AZ 85622
(520) 329-1579
Tucson Counseling Associates, LLC
170 N. La Canada Dr #30C Green Valley, AZ 85614
520-262-2170
Crisis Response Center
2802 E District St. Tucson, AZ 85714
(520) 301-2400
Community-wide Crisis Line
(520) 622-6000
A free 24-hour crisis line for individuals experiencing severe emotional distress, mental illness, or substance use.
National Suicide Prevention Lifeline
1-800-273-TALK (8255)
County Suicide Prevention Line
1-866-495-6735